How to print stickers & add it to packaging to promote anonymous self-reports if someone tests positive for Covid-19
A lot of testing is done using antigen tests at home and workplace settings. When people report these positive tests anonymously using Wehealth it can help notify others who can take precautions and/or seek treatment. An additional benefit is that it also helps track the spread of disease while still maintaining anonymity and privacy.
How to Print
Download the high resolution, print ready files.
Use a service that offers the following:

custom square stickers of 2.5"x2.5". This size was chosen as it works on all different available test kits in the US.
optional: matte finish as it is easier to scan (but it's not a deal breaker if this is not an option)
optional: sticker roll, making it easier to manually stick labels in bulk
Tip:
We recommend using a service like Uprinting (we have no affiliation with them) and make sure you choose square, 2.5" x 2.5" and use a matte laminate option if available as it is easier to scan.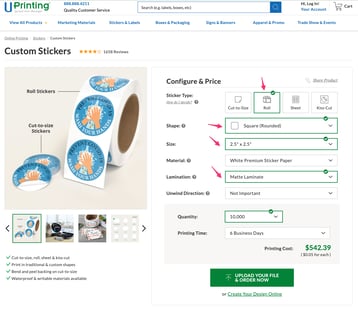 How to attach stickers to self-report materials
If you have any suggestions on what's the best way to make it easier for people to self-report, please submit a ticket with your suggestions and this article will be updated.
Here are some ideas so far. If self-report kits are handed out or mailed within the community, it might make sense to add the stickers in bulk centrally. It may also be possible to instruct retail/community testing/community health workers to do it at the point of distribution.
If there's an option to work with the manufacturer to update the packaging itself, you can also send the print ready files to them. Or please submit a ticket if any other resources can be provided to help with it.
Tip:
If you want to preview what the sticker looks like, you can print this file specially formatted 8.5"x11" (letter) sized document that will show a 1:1 preview of the artwork.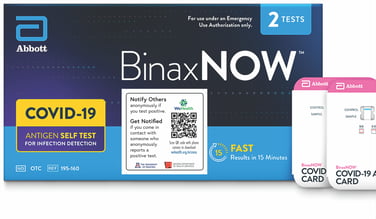 How the Self-Report Sticker works
Wehealth has designed this very powerful sticker-based workflow that reduces the barriers to self-reporting anonymously. It uses a QR code as well as also a backup URL that is simple and short if scanning is inconvenient or not an option.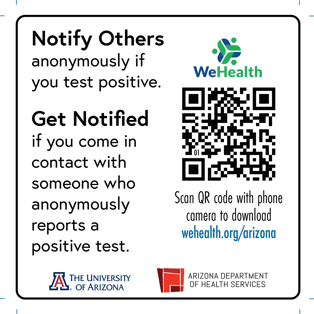 All the user has to do is scan the QR code on the sticker and:
1. If they already have the app installed, then scanning the QR code automatically launches the app and automatically opens the self-report flow within the app.
2. If they don't have the app installed, then scanning the same QR code automatically takes them to the appropriate app store or play store to download the app. Once the app is downloaded, they can either scan the QR code again, or initiate the notify others flow from within the app.